India vs England: How the lower middle order chipped in handsomely with the bat for India | Cricket News
With an emphatic 3-1 win vs England at home, Team India wrapped up another big series win and also topped the World Test Championship points table to book a place in the final vs New Zealand. It was also Virat Kohli's 10th series win in a row at home as India captain.
While there were multiple talking points during the four Test series, including a lot of talk about the pitches on offer, especially in the first three Tests, one thing that wasn't really highlighted a lot was the contribution of India's middle and lower order with the bat in a series which wasn't very high scoring.
Some of the pitch conditions were challenging, but often India's lower order, comprising the ever dependable R Ashwin (Man of the series) and some very talented youngsters, including the Man of the match in the fourth Test, Rishabh Pant made sure India put up challenging scores on the board. Their contributions in the fourth and final Test in fact made sure that India had to bat just once and helped the hosts pull off a huge innings and 25 run win.
Here's a quick look at how numbers 6-11 did for India, with the bat, vis a vis the top 5 batsmen, who form the core of the team's batting unit. (Some like
Axar Patel
,
Washington Sundar
and Mohammed Siraj didn't play all the matches):
While England captain Joe Root was the highest run getter of the tournament, thanks largely to his brilliant double century (218), five of the top 7 run getters in the four Test series were Indians.
Here's how India's top 5 batsmen did in the series (in batting order). Rohit Sharma, Shubman Gill, Cheteshwar Pujara, Virat Kohli and Ajinkya Rahane played al 4 Tests and scored a total of 881 runs between them
Rohit was the highest run-getter for India in the series and the second overall after Root. He scored 345 runs in 7 innings. He had one hundred and one fifty in the series and a top score of 161. His average was 57.50. Virat called Rohit's knock of 161 in the second Test in Chennai the 'defining moment', that allowed the hosts to bounce back in the series after losing the first Test.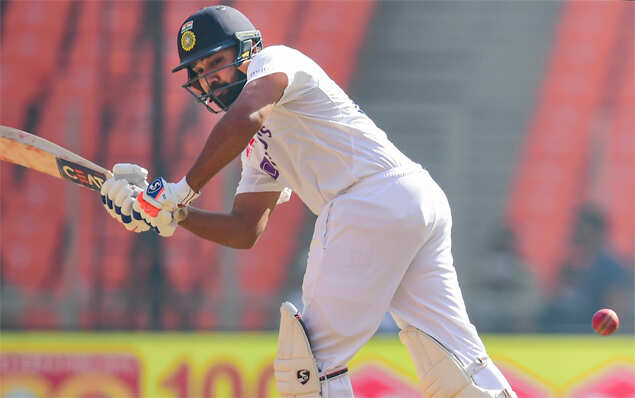 (PTI Photo)
Rohit's new opening partner Shubman Gill meanwhile managed to score 119 runs, with a top score of 50, in 7 innings.
At number three, India's current wall, Cheteshwar Pujara scored a total of 133 runs in 6 innings. His highest score in the series was 73.
At number four, Indian captain Virat Kohli scored a total of 172 runs, with two fifties and a top score of 72 in 6 innings.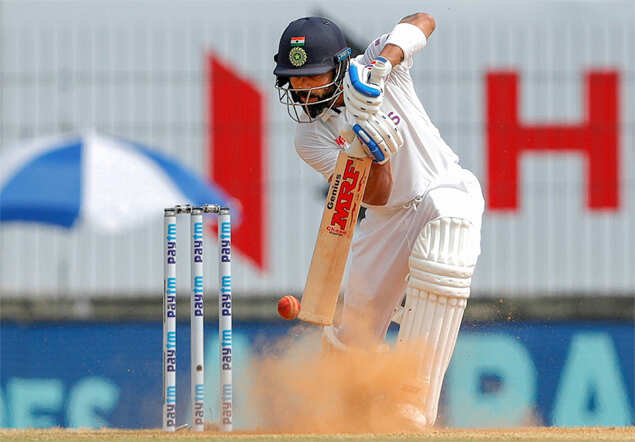 (BCCI/PTI Photo)
Ajinkya Rahane, whose form has dipped since he scored a magnificent century in Melbourne in the second Test of the series vs Australia earlier, scored a total of 112 runs in 6 innings, with a top score of 67 and an average of 18.6.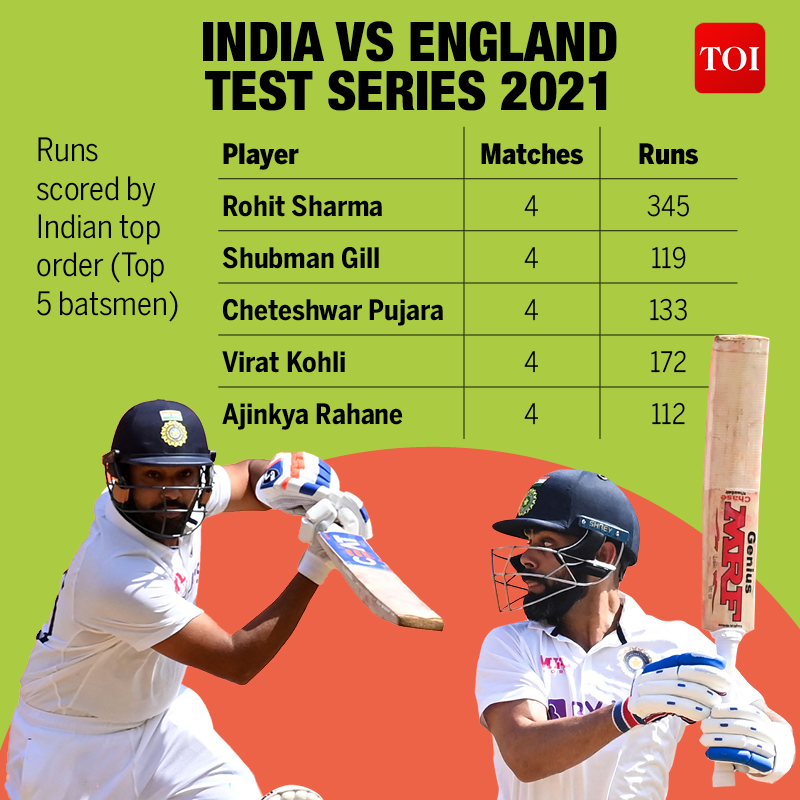 Now, let's see how the lower middle and lower order batsmen did for India in this Test series. In all, these batsmen added a total of 741 runs. That's just 140 runs less than what the top 5 batsmen scored together.
Batting at number 6, Rishabh Pant was a standout player in the series with the bat. Pant in fact finished the series as the second highest run getter for India, with 270 runs in 6 innings, at an average of 54. He had one century and two fifties.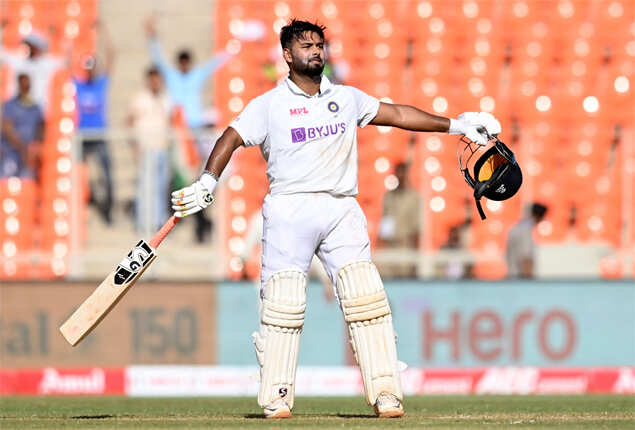 AFP Photo)
At number 7 , R Ashwin chipped in with 189 runs in 4 innings. India's premier spinner scored a brilliant century (106), to notch up his fifth Test ton. Ashwin averaged 31.50 in the series.
At number 8, Washington Sundar was fantastic with the bat. He played three of the four Tests, scoring a total of 181 runs. This included a highest score of 96* in the final Test in Ahmedabad. Sundar's average with the bat in the series was 90.50.
Axar Patel, at number 9, chipped in with 55 runs in 4 innings. At number 10, Mohammed Siraj added a total of 20 runs in 3 innings. While at number 11, Ishant Sharma added 26 runs in 6 innings.