Horticulture output to hit all-time high | India News
NEW DELHI: Just as India's foodgrain output witnessed a record surge despite challenges posed by Covid-19, the country's horticulture production too is likely to touch an all-time high of 327 million tonnes (MT) in 2020-21 with potato and mango dominating the vegetables and fruits segments, respectively.
Estimates of horticulture crops in the 2020-21 crop year (July-June cycle), released on Monday, show an increase of nearly 2% over 2019-20 in production of fruits, vegetables, aromatic & medicinal plants and plantation crops. Output of spices and flowers has, however, shown a decline over the previous year.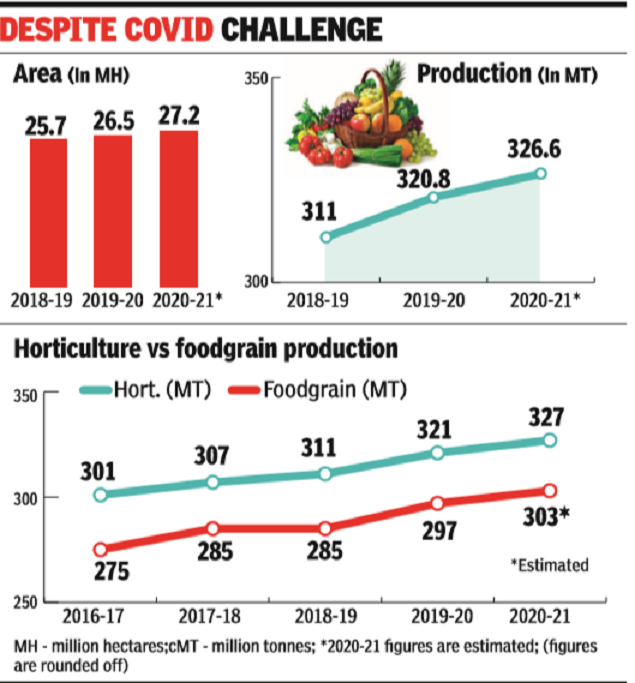 Acreage records show that the area under horticulture crops has also consistently been increasing in tune with growing demand for fruits and vegetables in the country. Overall figures show that the horticulture production has once again outstripped foodgrain production in 2020-21 – a trend which has been visible since 2012-13.
Driven by an increase in output of potato by nearly 10%, the overall output of vegetables is estimated to be 194 million tonnes (MT) in 2020-21 compared to 189 MT in the previous crop year. Among the three most popular kitchen staples, tomatoes, onions and potatoes (TOP), onions recorded a marginal increase, while tomato production dipped by nearly 1 MT in 2020-21 compared to 2019-20.
Backed by the 'king of fruits' mango that recorded an increase of over 4% to 21 MT, the overall production of fruits is estimated to be 103 MT in 2020-21 compared to 102 MT in 2019-20. Output of bananas too is estimated to be higher at 33.7 MT for 2020-21 compared with 32.5 MT last year.
The ministry had last month released estimated output data of foodgrains, showing a new record of around 303 MT which is over 2% higher than the production in previous year.