Never felt the need for helmet as I was confident of my technique: Sunil Gavaskar | Cricket News
50 years after his
Test debut
,
Sunil Gavaskar
opens up to TOI about
cricket
and life
Long before the cable TV revolution and social media boom, the faithful transistor was Indian fan's best buddy. It was an era when the West Indies produced some of the greatest quicks the world has ever seen, Australia had Denis Lillee and Jeff Thomson, Pakistan had Imran Khan and Sarfaraz Nawaz. India didn't have the firepower with the ball to match them, but then, they had Sunil Gavaskar, the man who could blunt them all.
Today marks 50 years since the game's greatest opening batsman, first played international cricket, against West Indies at Port of Spain. In an interview with TOI, Gavaskar talks about that smashing start in the Caribbean in 1971, his fascinating journey, the best cricketers he played against and his knocks that are part of folklore.
Excerpts…
Fifty years since your debut. What do you remember about that day?
What I remember even today is the sense of pride and happiness at being finally able to wear the India cap. The cap had been given as part of our touring kit like blazer, sweater, etc, but I didn't wear it in the few First-Class games we played before the Test match.
774 runs in your debut series. No one has been able to match that performance. What was the secret of that start?
Pure luck. Imagine the greatest cricketer of all time, Sir Garfield Sobers dropping me twice even before I had settled in!
Why did you never wear a helmet? Did you try one in the nets or in county matches?
Nobody wore helmets those days. We barely had leg-guards and gloves. Our thigh guards then were the hand towels in the hotel which we shoved into our front pocket! It's only after this tour ('71 tour to the West Indies) that a sponge thigh guard was made but which hardly served the purpose. I never really felt the need for a helmet, because I was confident of my technique. It was only after Malcolm Marshall hit me flush on the forehead that I used the skull cap. The skull cap I used only in the last three years of my career. That too only while the ball was new. Then it was back to the white Panama hat.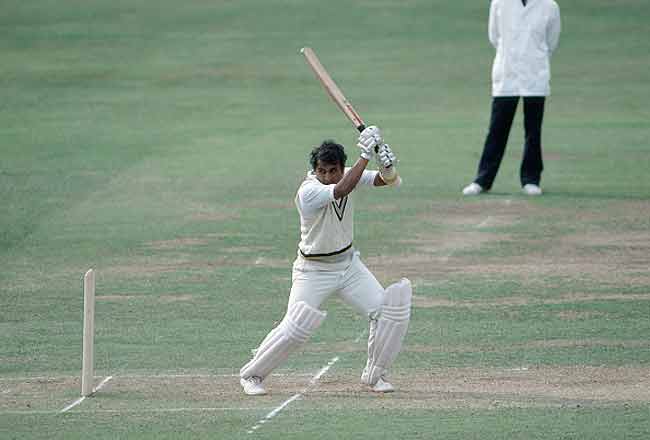 (Getty Images)
You played so many great innings. If you get a chance of playing an innings again, which one would it be? And why?
Ideally every innings where I got a duck is what I would like to play again so maybe I could get some runs!
That 96, in your final Test innings in Bangalore, is talked about a lot. What do you remember most about that knock?
What I vividly remember even today is a rare short ball from the left-hand spinner Iqbal Qasim and in my eagerness, I hit it straight to the fielder for a dot ball!
You must be aware that people switched off their transistors after you got out? How did you deal with that pressure? Even in grounds, people came to watch only you…
It was only at Eden Gardens that I felt the pressure of crowd expectations. I was desperate to get big runs there to get the unbelievable ovation of the 90000-plus crowd, but eventually I got runs only in one Test match over there.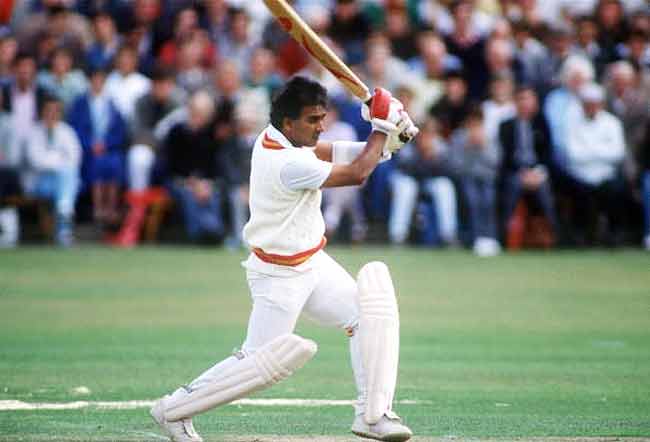 (Getty Images)
That famous dismissal in the 1983 Kanpur Test, where you were caught by Winston Davis off Malcolm Marshall with the bat falling off. A lot was written about it and suggestions were made that it was time to go. Talk us through your feelings after Kanpur and in the days leading up to that blazing hundred at Kotla?
In the infamous Test at Sabina Park (in Jamaica) in 1976, where there was a bouncer barrage at us, I, accidentally discovered that with being barely able to grip the bat after the battering the fingers had got, if the bat was held loose and the ball hit the gloves, it would drop dead at my feet because there was no 'give' of the gloves. The bat would fall from the hands but I would grab it before it fell to the ground. That became my way of playing the short ball while defending it. In the Kanpur Test in 1983, the ball actually didn't bounce as much, so instead of hitting the gloves, it hit the shoulder of the bat which was gripped loosely, and so the impact made the bat fly out of my hands. I was disappointed as I had failed once again in my in-law's town and resolved that I would start hooking the short ball again.
Did you consciously cut down on shots knowing how much the team depended on you? How difficult is that self-denial mode? In that sense, do you feel that Cheteshwar Pujara is sometimes unfairly criticized?
Yes, I had cut down the hook shot to a great extent as it was not a percentage shot. The cut shot too got me out often so I barely played it. Yes, Cheteshwar denies himself for the sake of the team and needs to be appreciated more, because it's his solidity at one end that allows the stroke players at the other end to play their shots.
Did you change bat weights as you grew older?
My bat weight changed marginally as I grew older. They became a bit heavier for that time.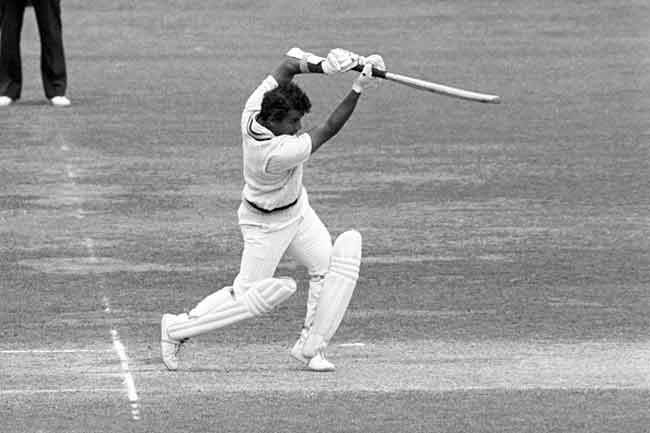 (Getty Images)
A lot was speculated about your frosty relationship with Kapil Dev, especially after he was dropped midway into the series against England at home in 1984-85.
Ours was, and is a relationship of mutual respect. He is ten years younger than me so his circle of friends were different. As for him being dropped, all I can tell you that it wasn't me who proposed that action. I maybe a lot of things but am not an idiot to propose dropping the only match-winner in the team. Remember also that as captain, I was only co-opted to the selection panel with no voting rights.
Your relationship with the media then and now. Has it changed?
My relationship with the media is pretty good I think. After 1978, because of the offer from World Series cricket, I was called a traitor by some.
You have also been criticised for speak too much in favour of the BCCI.
All those who feel that way weren't even born in the 70s when I was taking up the players' cause with BCCI. Today, it has become fashionable to call those who are not anti-establishment as spineless and chamchas. I do not need a certificate from them about my integrity.
Who was more lethal? Malcolm Marshall, Andy Roberts or Michael Holding?
Andy Roberts was more lethal, as he could bowl the unplayable ball even when you were past a hundred.