India vs England: Former cricketers advise Joe Root to play at least two specialist spinners in fourth Test | Cricket News
NEW DELHI: Most reports coming out of Ahmedabad seem to suggest that the pitch for the fourth and final Test between India and England will be another turner. Even though initial reports did suggest that a batting beauty might be expected. As the debate rages on and the speculation continues, both teams will be focused on just one thing – playing better cricket.
Despite India's 10-wicket win in the third Test, there are things the hosts would like to do better in the final Test, especially in the batting department.
The Indian spinners meanwhile will be licking their lips in anticipation of another turning track. As far as the English are concerned, they would do well to read the pitch better this time and make changes accordingly to their playing XI.
India's premier spinner Ravichandran Ashwin and Axar Patel claimed 18 off the 20 England wickets that fell in the third Test to hand India a 10-wicket win and 2-1 lead in the series.
Both the spinners will aim to go full throttle once again in the last Test, to be played at the same venue in Motera. A win or a draw for India will ensure their passage into the inaugural final of the World Test Championship.
Former England spinner Monty Panesar feels Axar, who was adjudged Man-of-the-Match for claiming five-wicket hauls in both the innings of the third Test and Ashwin will once again rise to the occasion and wreak havoc on a potentially turning track in the fourth Test.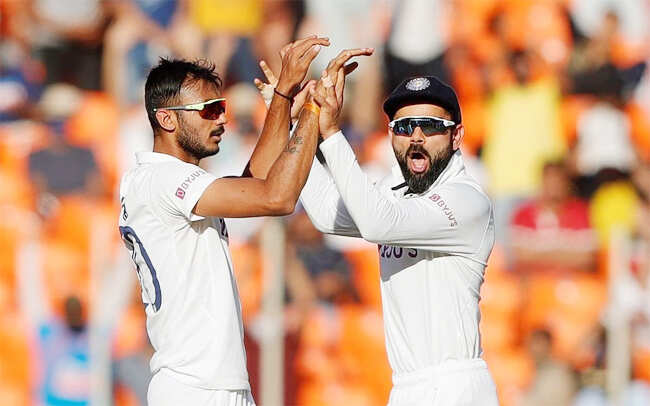 Image credit: Axar Patel's Twitter handle.
"I am sure Virat would go for a turning track once again and India will win the Test match. Virat is hungry and will want to make it 3-1. He would not want the wicket to react the way it did in the pink ball Test, but he will certainly want a turning track. Virat knows that England batsmen do not know how to tackle a turning pitch. Ashwin and Axar will be desperate to do the job for Virat in the final Test," Monty told Timesofindia.com in an exclusive interview.
On paper, India are the favourites to win the fourth Test and make it to the World Test Championships final against New Zealand.
Former India wicket-keeper batsman Kiran More meanwhile is confident that India will sign off the Test series with a scoreline of 3-1.
"India will win 3-1. I am confident about that. I can see the hunger Team India has right now. They will sign off the Test series at a scoreline of 3-1 and will make the World Test Championships final comfortably," More told TimesofIndia.com.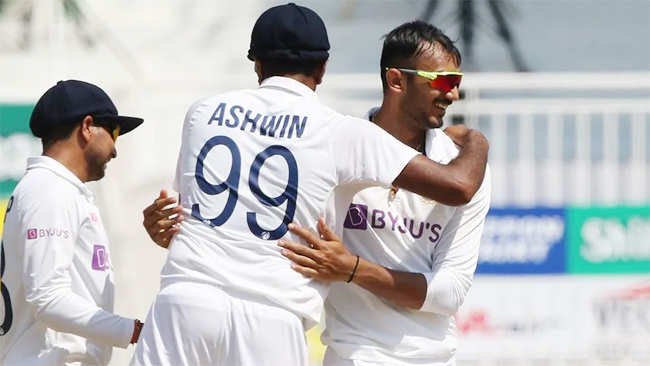 Ashwin and Axar. (BCCI Photo)
With pacer Jasprit Bumrah being released from India's squad due to personal reasons, More feels either the fit again Umesh Yadav or Mohammed Siraj, who was excellent on India's recent tour of Australia should replace the senior pacer. He also feels Virat and the Indian team management will stick to three spinners – Ashwin, Axar, and Washington Sundar.
"Bumrah isn't there. Umesh or Siraj will get in place of Bumrah. I am sure Virat will go with three spinners once again. Axar and Ashwin were amazing. Sundar is an asset with bat and ball. You need to have a tail who can score runs as well. Maybe 30 or 40 runs. These guys have proved that they can bat too, apart from taking wickets. So, apart from Bumrah's replacement, I don't think Virat is going to tinker with the winning side," More said.
ADVICE FOR CAPTAIN ROOT
One of the biggest talking points after the playing XI for both teams were announced for the third Test was how England had gone in with only one specialist spinner in Jack Leach, while India went in with three specialist spinners.
With Moeen Ali unavailable, Dome Bess's non-inclusion in the England playing XI surprised many.
"If Root has to win the Test, he needs to include Bess. He needs to have an extra spinner in the fourth Test. Even if this is a turning track, the game will be a different one. Because it is not a pink-ball Test. It will be played with the red ball. I am hoping this Test match should go slightly longer. We saw English batsmen struggle on the spinning and turning pitch in the third Test. England need to bat longer if they have to win the Test match," Monty further told TimesofIndia.com.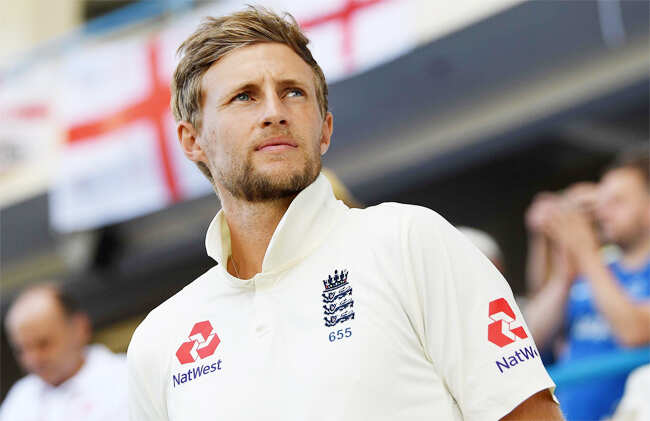 England captain Joe Root. (Reuters Photo)
More's advice for captain Joe Root meanwhile was also to definitely field two specialist spinners. With Joe Root available to turn his arm over, England will have three spinning options in that case.
"You can't go with one spinner in India. You need to have at least two spinners. Otherwise, you will get killed," More added.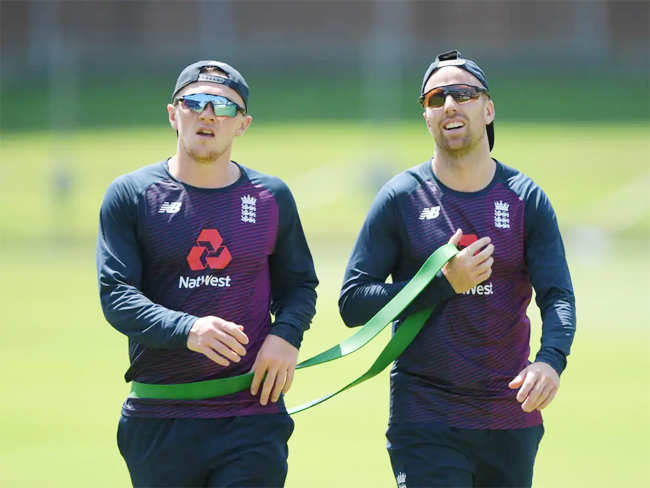 Dom Bess and Jack Leach. (Getty Images)
Monty meanwhile feels Root is the man in the English team who can turn around England's fortunes with the bat, sign off the series with a win and spoil India's chances of making it to the final of the World Test Championship.
"Root should be back to form again. If he is settled, then it will be difficult for India. He will have to score a lot of runs. And, other batsmen should support him. He can turn the match on its head at any point. Root should bat longer if England have to win the fourth Test," feels the former England spinner.
INDIA TARGET WORLD TEST CHAMPIONSHIP FINAL BERTH
India are leading the current four-match series 2-1 and need a 2-1 or 3-1 series win to make it to the World Test Championship final against New Zealand. The final is scheduled to be played in June at Lord's.
If England manage to win the fourth Test, then it will technically be New Zealand vs Australia in the final, though Cricket South Africa's complaint against Cricket Australia for pulling out of a 3 Test series could potentially see South Africa being awarded all the 120 points for that series. In that case, even if England win the last Test, Australia will be out of the race for the WTC final. Though a more amicable resolution of the matter, after Cricket South Africa lodged a complaint with the ICC is expected.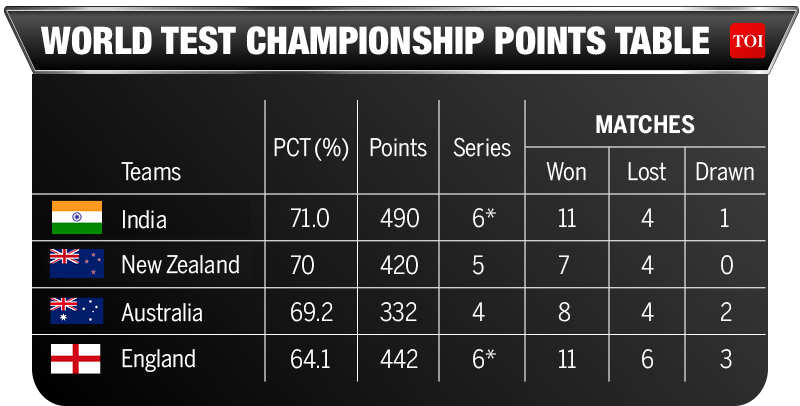 More termed Team India as favourites for the WTC final but also warned Kohli's men against complacency.
"It is the first time WTC is happening and seeing our team going into the final and then defeating New Zealand will be a huge thing. But India shouldn't get complacent. They need to give their best in the fourth and last Test. They cannot afford to lose this Test match. Win in the fourth Test will be a huge boost going into the WTC final. India won the Australia series and hopefully the England series. They shouldn't be complacent. India have a very good chance of winning the championship. They are favorites," More, who played 49 Tests and 94 ODIs for India between 1984 and 1993, told TimesofIndia.com.
Monty meanwhile also tagged India as the favourites in the final Test of the series.
"India should qualify for the WTC final. They are a much stronger side than England right now. Not seeing England playing the final at home will be disappointing," Monty said.
THE PITCH DEBATE
The last Test match was also played at the same venue and finished inside two days. It was the shortest completed Test match since World War II in terms of balls bowled (842).
England suffered heavy defeats in the last two Tests – by 317 runs in Chennai and by 10 wickets in Ahmedabad.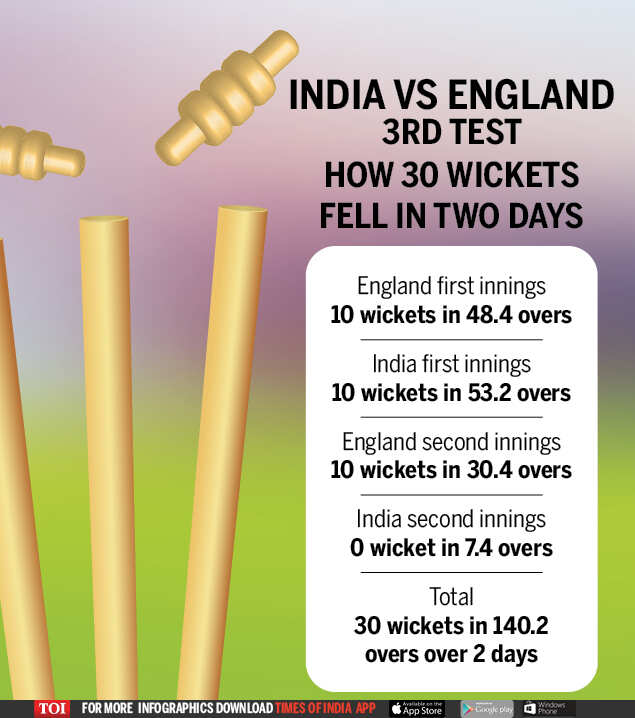 The English batsmen struggled against the Indian spinners and fell like a pack of cards. They were out for 134, 164, 112, and 81 in their four innings in the last two Tests.
While former English cricketers like Michael Vaughan continue to criticise the nature of the pitch that was prepared, the Indian camp has defended the pitch. The English cricketers who are part of the current series also have chosen to focus more on their preparation than talk about the nature of the pitch.
Now, all eyes are on the fourth Test to see what the nature of the track is for the final match of the series.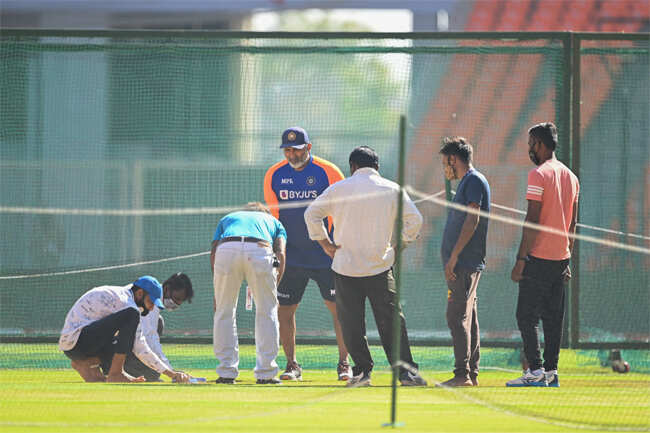 AFP Photo
"It depends on how both teams bat. If both teams surrender and are bowled out quickly, then ICC should get involved. If England are bowled out cheaply and India go on to score big, then the debate will be different. When India can score freely, why didn't England? This will be the point we will all be discussing," Monty told TimesofIndia.com.
More feels the home team should have an upper hand and another turner is what we can expect.
"That totally depends on the team management and the captain Kohli. What exactly Kohli wants. I am sure they will go with the spinning track. And, the home team should get the advantage," More said.