India vs England: India firm favourites to win fourth Test, it will be India vs NZ in WTC final: Nick Compton | Cricket News
NEW DELHI: Brimming with confidence, after winning back-to-back Test matches, Team India will aim for another superb show when they take on a beleaguered England in the fourth and last Test at the Narendra Modi Stadium in Ahmedabad.
The third and penultimate Test of the series was also played at the same venue and ran for just two days. It was also the shortest completed Test match since World War II in terms of balls bowled (842). India registered a 10-wicket win over the Three Lions to go 2-1 up.
Former England opening batsman Nick Compton, who was part of England's Test series-winning team against India in 2012-13 under Alastair Cook's captaincy, has termed India as the 'firm favourites' to win the fourth Test and enter the ICC Test Championship final against New Zealand, to be played at Lord's later this year.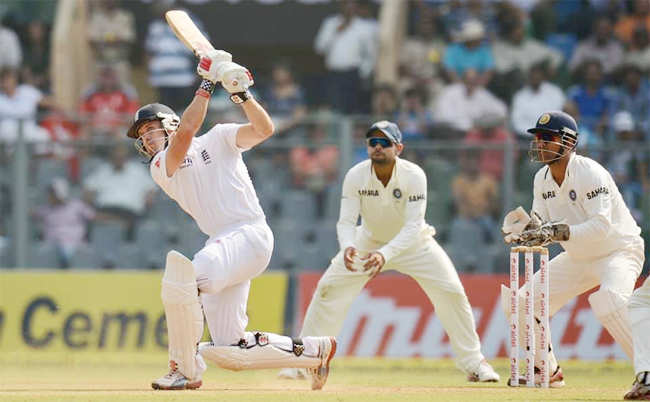 (FB Photo)
"I think it'll be India vs New Zealand in the WTC final. India are playing in India. And, you have to back them as favourites. They are favourites to have a successful last match to make the final. If India were playing in a different country, it would be a big effort for them, but I think the fact that they're playing in India, they won the last two Test matches, I'd have to say India are firm favorites and they'll be very confident going into the last Test match," Compton told Timesofindia.com in an exclusive interview.
India's premier spinner Ravichandran Ashwin and young Axar Patel picked up 18 of the 20 England wickets between them to bowl England out for 112 runs in their first innings and then 81 in the second of the third Test match.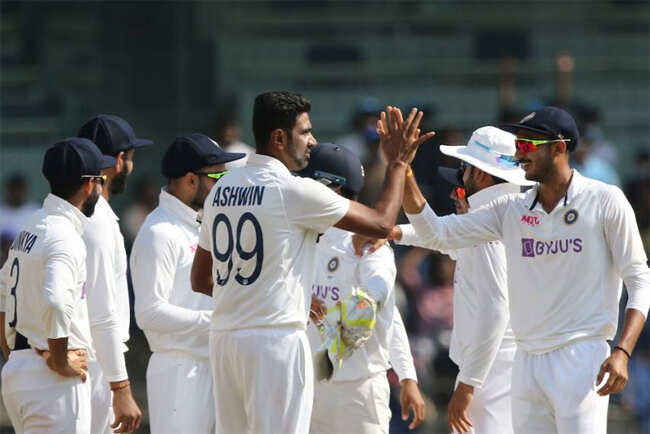 (AFP Photo)
"The pitch conditions were challenging. There's no doubt. But there were still runs to be hit out there. Rohit Sharma played very well in the first innings, as did Zak Crawley. Timing on that pitch didn't seem that difficult in the sense that they scored very freely. I think what was very disappointing is that when you play against spinners, you need to play with responsibility. The most disappointing was seeing most of the wickets falling off straight deliveries by spinners," Compton said.
"The first lesson I learnt about playing spin and I will never forget (it), was when I was young. It was advice from a senior player that to play every single delivery as it is going straight. Because if it rips and turns and beats your outside edge, then you just say well bowled. If somebody turns the ball from leg stump or off stump, then let him try and do that. Sometimes you just have to give credit to the bowler. But my word is that you can't miss a straight ball and you can't be dismissed to a straight ball. That's what happened with English batsmen in the third Test. English batsmen didn't get their bats out in front of their front pad. So, the first line of defense has got to be your bat. A lot of the players were playing bat and pad together. You need to get your bat out in front and cover the straight line. And if the ball doesn't turn, then you play with soft enough hands," the 37-year-old cricketer said.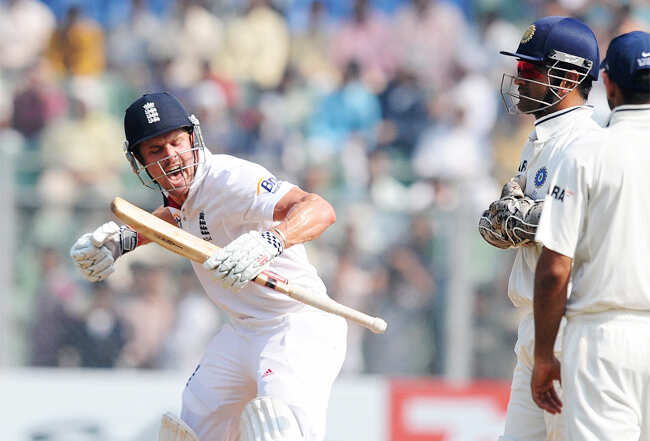 (TOI Photo)
DEFENSE – A MAJOR PROBLEM
Compton, who has played 16 Tests for England and scored 775 runs at an average of 28.70, feels nowadays batsmen do not trust their defense and throw their wickets away, especially while facing spinners.
"The biggest problem with batting around the world nowadays is a batsman not trusting the defense. As soon as the ball starts spinning, you will see batsmen start panicking. That has been because of T20 cricket. Batsmen don't practice and work on their defense. You do find a lot of batsmen struggling and that poses a big question mark on our players trusting their defense. It is just because the ball is turning," he said.
"When I was young, you were taught to trust your defense, get forward, get back and play with soft hands. Nowadays, players see the ball spin and immediately they revert to attack mode. They end up playing some poor shots and lose their wickets. One of the keys to success in 2012 was Alastair Cook and me. We batted for long periods of time. Sometimes the scoreboard wasn't going that far but we managed to take the game into the fourth or fifth day," Compton, who has two Test centuries to his name, further said.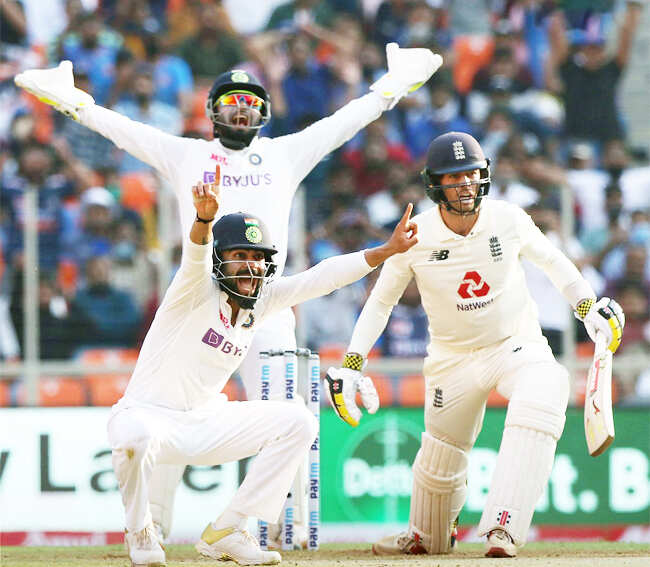 (ANI Photo)
COMPTON'S ADVICE TO CAPTAIN ROOT
When England captain Joe Root decided to go with one spinner in the third Test in Jack Leach, the decision raised many eyebrows. India went in with three spinners – R Ashwin, Axar Patel and Washington Sundar.
England missed a second specialist spinner badly in the match. Leach claimed 4 wickets in the first innings and then got the support of his captain Root who picked up 5 wickets for just 8 runs as a part-time off-spinner in India's first innings.
What the pitch will be like exactly for the fourth and final Test is anybody's guess. Compton feels Root should go in with at least two spinners for the fourth Test – Dom Bess and Leach.
"Indian team are brimming with confidence. They won the third Test and are 2-1 ahead. The last Test will be very, very difficult. Joe Roots is an honest man. He is somebody who understands the challenges. He's got to try and pick the best team for those conditions to win the game. And that's obviously going to come through the spin. I am sure India will go with the same plan and play to their strengths and hope that they can out-bat the England spinners," Compton said.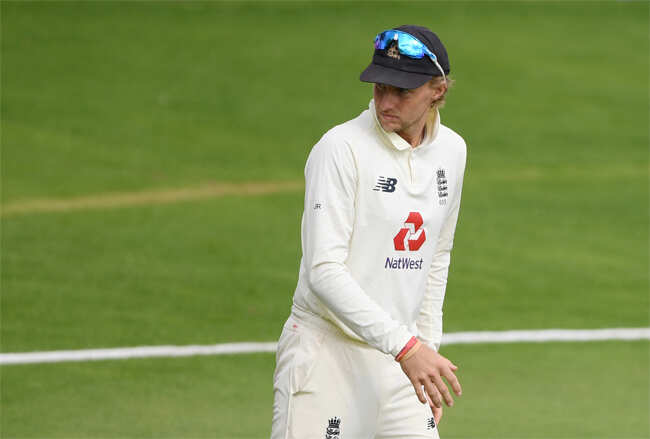 (Reuters Photo)
"India will have an upper hand. For England, Leach and Bess will probably come in. The biggest loss for England is Moeen Ali. If you had Moeen in there, somebody who has a 100 in India, can bat in those conditions. Apart from the bat, he can bowl really well in those conditions. Moeen was a huge loss to the series. I think Joe should go with a longer batting lineup and an extra spinner. I would play just one seamer and Ben Stokes and play two spinners and obviously, you've got Joe Root who can bowl too," the former England cricketer further told TimesofIndia.com.
"It was a pink-ball Test and was played under lights, England made the wrong call. If they had played with the pink ball and under lights in England, then the team that they selected would have been a good one. But of course, the conditions didn't play the way they'd hoped. They thought the ball might swing. The likes of Archer, Broad, and Anderson would normally be very effective. But of course, they made a wrong call. But the point being that Bess should have been included in the first place. He would have made the difference," Compton, who made his Test debut on England's 2012-13 tour of India said.
THE 2012-13 TEST SERIES TRIUMPH
Compton was part of the victorious England Test team which travelled to India in 2012-13. That series remains the last Test series India lost at home. The Alastair Cook-led England team lost the opening Test in Ahmedabad by 9 wickets and then made a remarkable comeback to win the second Test (in Mumbai) by 10 wickets and then the third Test (in Kolkata) by 7 wickets. The fourth and final Test in Nagpur ended in a draw and England lifted the trophy with a 2-1 series scoreline.
Compton played all 4 Tests in the series and scored 208 runs at an average of 34.67.
"It was a great experience. It was my first Test series. So, for any aspiring cricketer, to go to India, a place that has a big cricketing history, a huge fan base, was a dream come true. For a traveling cricketer, it represents one of the biggest challenges because the conditions were different. Facing the world-class spinners, playing with players, and representing a star-studded England cricket team was a big big thing for me. The team had been very successful. There had been a couple of changes after Andrew Strauss had retired. And there was a new captain in Alastair Cook. He was amazing. There were some outstanding players. So, for me, it was a great opportunity to play with some of these guys," Compton recalled.
Compton also highlighted the big difference between the 2012 England side and the current English team which is touring India.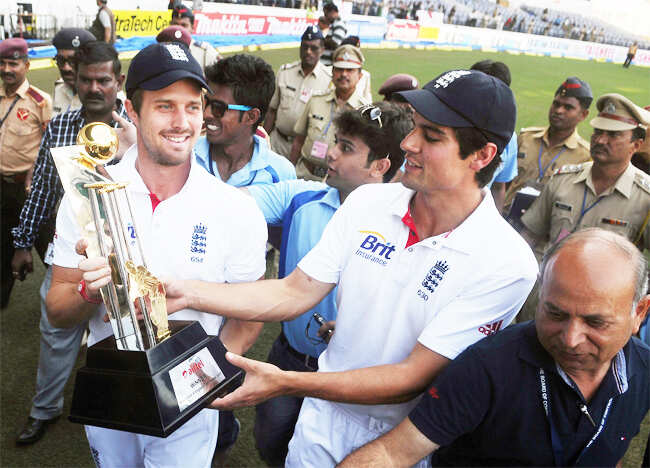 (TOI Photo)
"The big difference is the experience of the team. England have quite an inexperienced batting lineup. The quality of spin is not as good as it was in 2012. I think the key to England's success in 2012 was that we had a very experienced batting lineup. We had two world-class spinners. And of course, James Anderson is a world-class bowler. Your seam attack is less important in India because you're not going to take wickets with seam but you still need someone who can do the job. So, if you talk about the makeup of the team, we had a much more experienced team," he said.
On being asked what his best memory against India is, the former England cricketer said: "It was hitting the winning runs in Mumbai, leveling the series. It reminded me of India when they got to 50 without loss and won the Test match in Ahmedabad (third Test of current series). We also needed 50 plus runs, in Mumbai, to win that Test. It was nice to go out there and win confidently. And my mother was at the Test match and it was just a really nice moment to be there with Alastair Cook and win that Test match. And hearing the Barmy Army sing your song. To win a Test match in India was a big achievement. And obviously, winning the Test series at Eden Gardens in the next Test match and go 2-1 up was a big and further highlight."
"India has always been a country I feel very passionately about and I look forward to coming back again," he signed off.